House of the Future - 1929
Arne Jacobsen & Flemming Lassen
Temporary Exhibition House at The Forum - Copenhagen - DK

Jacobsen and Lassen both launched their careers in 1927 by winning a competition held by the Federation of Danish Architects for the design of a single-family House of the Future. The winning entry was erected at the 'Architects Building and Housing Exhibition,' held at the Forum in Copenhagen two years later.
The circular 'Fremtidens Hus' was an exhibition house, showing the latest advances in the then new technologies: a garage door opening automatically when a car approached; an 'exhaust fan' in the doormat vacuuming the dirt of the visitor's shoes; windows rolling up and down with a crank handle like the windows of a car. There were built-in typewriters, a pneumatic-tube mail system, and a simplified kitchen, since the architects imagined that in the future meals would arrive ready-made from a central kitchen. The antenna on the roof was meant to collect electricity, which would be transferred wirelessly. The future resident was expected to be very mobile, needing space for a car and a speedboat and even a landing on the roof for an autogyro.
The house is organized in response to its orientation. According to the architects, the round shape makes it possible to group rooms around the central living space in the order 'required to take the sun's path into consideration'. The central room is surrounded by two concentric elements of unequal widths and heights. The width of the widest element increases towards the entrance, causing a dynamic spiral movement and breaking through the symmetry of the classical circle.
Sources:

-
Arne Jacobsen
Carsten Thau; Kjeld Vindum
Arkitektens Forlag/Danish Architectural Press, Copenhagen, 2001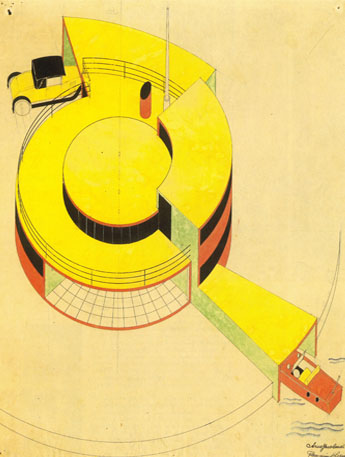 Royal Academy of Fine Arts Library, Copenhagen